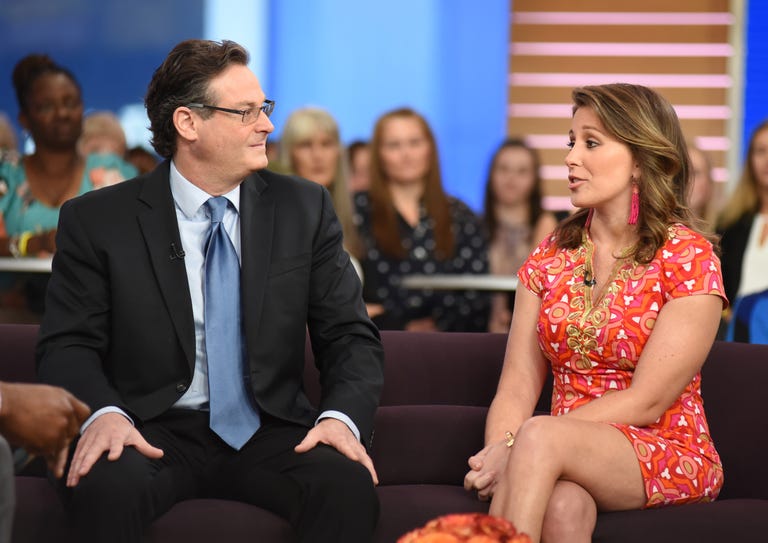 It's easy to think that once doctors take their white coats off, medicine's the last thing on their minds. But that's not the case for one surgeon.
Erich Voigt M.D., an otolaryngologist (a.k.a. ear, nose, and throat doc) at NYU Langone Health, was casually watching Beachfront Bargain Hunt on HGTV when he spotted a small lump on a woman's throat. "As a head and neck surgeon, I'm trained to sort of notice these things," he later told ABC News.
Voigt says he immediately realized the lump could be serious and that the woman had to see a doctor. There was just one problem: He had no idea how to get in touch with her, and the show didn't mention her last name.
So, he turned to social media for help. "I am watching a TV show and [noticed] this woman has a left thyroid mass. She needs a sonogram and fine needle biopsy," he wrote on his Facebook page. "I wonder if she knows and hope it's benign."
Voigt's post spread and eventually he was connected with Nicole McGuinness, 32, the woman he had seen on the show.
Voigt told Nicole, who lives in Havelock, North Carolina, what he told his Facebook friends: that she needed a sonogram and biopsy. Even though Nicole was a brain cancer survivor, her doctors hadn't noticed the lump in her throat. She saw a specialist and was eventually diagnosed with thyroid cancer, ABC News reports.
"She will be seeing a surgeon and getting appropriate treatment and I hope she will be cured!" Voigt later wrote on Facebook. "Awesome power of Facebook and good people!"
"It's just a miracle in my opinion that he happened to see this on TV," Nicole told ABC News. "I can't express how grateful I am." The two have chatted online and emailed, and they met face-to-face for the first time on Good Morning America this week.
"Dr. Voigt, I'm going to try to say this without getting emotional," Nicole said on GMA. "I have gone through a lot these past couple of years, and never expected to have to be a two-time cancer survivor. But without you keeping a vigilant eye, and watching that television show, who knows how long I would have gone on without that being checked. So, from the bottom of my heart, thank you so much."
It's an amazing story, but it's not the first time a medical professional has noticed a stranger's bump on TV and intervened—in 2013, registered nurse Ryan Reade spotted a lump on HGTV's Flip Or Flop star Tarek El Moussa, according to People.
Reade reached out to the show's producers, and Tarek was later diagnosed with thyroid cancer and successfully treated.
Doctors and nurses! They're just like us—just way more perceptive.
Source: Read Full Article