"You will have many different kinds of opportunities in life, and you need to be flexible," former U.S. Secretary of State Madeleine Albright told Pfizer colleagues, emphasizing the importance of adaptability, diversity, and responsibility during her recent visit to New York headquarters.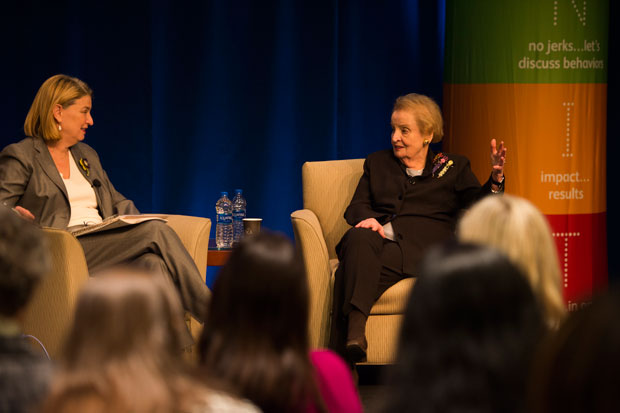 In honor of Women's History Month, the Pfizer Global Women's Council welcomed Secretary Albright for a conversation spanning her illustrious career in Washington D.C., including her experiences as the U.S. Permanent Representative to the United Nations (1993-1997) and the first female Secretary of State (1997-2001) under President Bill Clinton. Sharing advice for women seeking to advance professionally, Secretary Albright drew parallels to the art of diplomacy: learn when to interrupt, when to cooperate, and when to stand firm. Further, she stressed the need for men and women to work together to address the gender imbalances that persist across industries.
Reflecting on current challenges, such as the refugee crisis, climate change, and public health initiatives, Secretary Albright advocated for stronger public-private partnerships and the important role corporations can play to address global concerns. "The public sector cannot do this alone. The private sector should be at the table early, thinking through the problem and its solution."
Moderated by Sally Susman, Executive Vice President of Corporate Affairs, the conversation marked one in a series of events featuring role models who motivate and inspire colleagues.
Source: Read Full Article