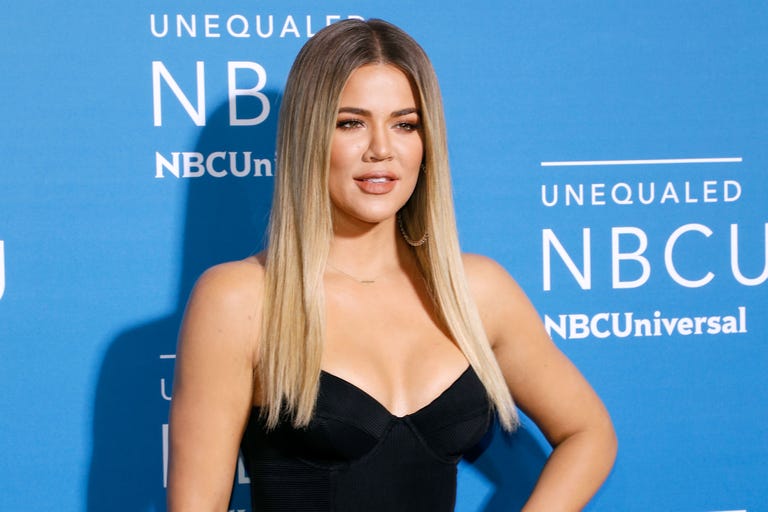 Even though she's easily the most workout-happy Kardashian (hell, she even has her own fitness-based TV show!), that doesn't mean postpartum fitness comes easily to Khloe Kardashian.
"After I had True, I couldn't wait to get back to the gym. I really missed it during my pregnancy. A good sweat sesh can do wonders for the mind," the Revenge Body host wrote Wednesday on her app and website , according to People.
She said she even brought her personal trainer to Cleveland, where she is living with boyfriend Tristan Thompson. "Once I got the green light from my doctor, Coach Joe was on the next flight to Cleveland—no joke, LOL," she wrote.
But just because she has the resources to bring in her own trainer doesn't mean it's easy to get back into shape. "On that first day back, it felt so good to sweat again. Not going to lie, it's a struggle to get back into the groove," she wrote. "Mentally, I'm strong but physically, it's just not the same. But every day, I'm one step closer, baby!"
????
A post shared by Khloe Kardashian Snapchats❕ (@khloesnapchats) on
Khloe has been sharing photos and videos from the gym, even flashing her abs five weeks after giving birth. "My muscle memory is a real thing, because it's still under there," she said previously. "If I'm solid, I really don't care."
A post shared by Khloe Kardashian Snapchats❕ (@khloesnapchats) on
She also revealed on Snapchat that she sneaks in workouts while True is asleep, carrying her baby monitor with her.
As for mom-shamers, Khloe has a message for them too. "I've read a couple of times on Twitter that, you know, they feel that I'm focusing too much on my body," Koko said on Snapchat a few weeks ago, according to People. "But the truth is, I've worked out five or six days a week before I got pregnant and that's my sanctuary and something I love to do."
"Just because I have a baby, doesn't mean I have to stop doing the things that I love, and I love working out and getting my mind right," she added. Hear, hear!
Source: Read Full Article