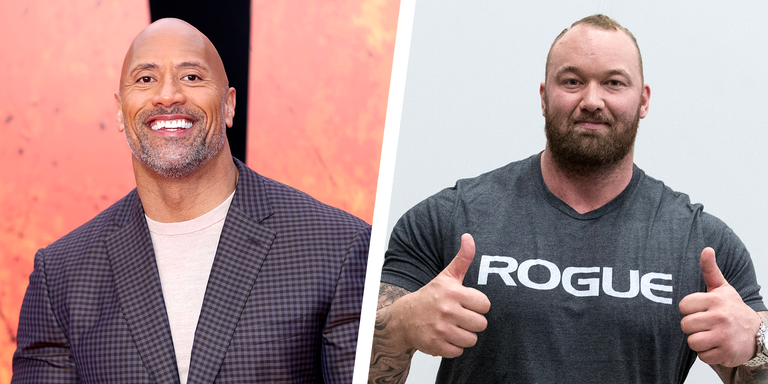 Even if you're stuck at home, school, or work, you can always have an open portal to the gym if you have a smartphone and an Instagram account.
The social media platform has become the go-to space for anyone and everyone interested in health and fitness. Pro trainers and amateur jocks alike can share pics and videos of their workouts, training plans, fails, and triumphs. That's why you'll probably be just as likely to be asked to record a stranger's bench reps as you might be to spot their lifts — everyone wants their best shot for the 'Gram.
On those tough days when the demands of life make it impossible to get a workout in, or the difficult times when you struggle to fire up the willpower to work out, it helps to get some extra motivation from the pros. With that in mind, we've lined up the best fitness accounts you should be following on Instagram.
You'll find a healthy mix of bodyweight exercises, cardio, mobility moves, strength training, and a whole lot of abs and sweat. These men and women don't just show off their jaw-dropping muscle definition for their own gratification — they'll inspire you to get moving, too.
DWAYNE "THE ROCK" JOHNSON
Simply put, The Rock is one of our fitness heroes. His workouts are brutal (and sometimes they include chains), he motivates his fans to work as hard as they can, and sometimes, he even shares his bonkers workout routines for those brave enough to give them a try. Look no further than his Instagram account if you need a kick in the ass today.
These are called the "Hobbs Beef Piston Power Thrusts" ?? with 405lbs with a 15sec burn, churn and hold at the end. Training and dieting extremely hard for the next 16 weeks to be in the strongest & best shape I can be in for my HOBBS & SHAW film. This isn't just another FAST & FURIOUS movie, it's a spinoff opportunity to build out and grow the franchise and characters properly (taking a page out of MARVEL's book) for audiences around the world to enjoy. Fans have been asking for this spinoff for years and I'm happy to say finally, their wish is my command. Let's have some FUN. #AudienceFirst #SevenBucksProds #UniversalStudios #HobbsAndShaw #HardestWorkerInTheRoom
A post shared by therock (@therock) on
CURTIS WILLIAMS
Curtis Williams will help you kick your routine up a notch. This former Baltimore Ravens player is now an elite performance coach for Under Armour and has his own training program. His exercises are designed to enhance your athleticism—so they're high energy, challenging, and empowering.
C O R E // #athlete #curtiswilliams #athlete #functionaltraining #performance #trainingcamp #fitness #fitnessmodel #workout #gymmotivation #instafit #abs #core #training #personaltrainer
A post shared by Curtis Williams (@curtiswilliams17) on
LAUREN FISHER
Lauren Fisher's CrossFit workouts will give you plenty of reason to go pick up a barbell. The six-time CrossFit Games competitor fills her feed with pics and videos of her training, competitions, and travels.
I am excited to have yet another amazing company watching my back as I prepare to hit the competition floor! @trainwithnexus just announced the incredible technology they are delivering to the world of #CrossFit starting this summer. ? ⠀⠀⠀⠀⠀⠀⠀⠀⠀ They opened up their limited pre-order on the weekend but it won't last long. Can't wait to show you all what this platform can do. #TrainWithNexus
A post shared by Lauren Fisher (@laurenfisher) on
MEN'S HEALTH MAGAZINE
Ok, ok, shameless plug, but the whole point of our jobs is to inspire you to be healthier. We've got you covered on all things fitness, health, weight loss, and nutrition.
Celeb trainer @donsaladino shows exactly how to get #deadpool's muscles. You're on your own for the one-liners
A post shared by Men's Health (@menshealthmag) on
BEN BOOKER
Ben Booker is the owner and founder of Second Chance Fitness, a 24-hour gym in Illinois. Anyone willing to run a gym that let's people come in and work out at any hour of the day gets our stamp of approval.
Great to be back on the #nooncrew roster! Keeping it old school! Got some #strength to get back and some fat to burn. 2 regular sets, 2 supersets 12-15 reps SHOULDERS – Cable Arnold press/ side cable raise TRICEPS – single arm DB skull crushers/ Rope push downs LEGS – #squats / leg extensions ABS – Lying leg raises off bench/ ab roll outs #core #squats #shoyldets #abs #triceps #bodybuilding #fitnessmotivation #flexing
A post shared by Ben Booker (@thebenbooker) on
DON SALADINO
Ever wonder who helps to push celebrities into the ridiculously good shape needed to play a superhero at the movies? Don Saladino, an NYC-based fitness master, is one of the trainers behind the transformations of Ryan Reynolds, Blake Lively, Sebastian Stan, David Harbour, and others. He shares workout moves to his account daily to give his followers a chance to suit up for their own superhero bodies, too.
Wednesday's have been my day to practice. Gymnastics, Club bells, steel maces etc… This is a day when i'm still working, but it's more about practicing techniques I'm really still learning. – Don't be afraid to work on your weak links. No one cares if your good or bad at something at the gym. Just make sure you are mindful about technique and that the effort is there. – Click on the link in my bio for my workout routines on my @playbook_app – @drive_clubs @gardenoflife #suitupwithdon #toneupwithdon #superherotraining #hybridtraining
A post shared by Don Saladino (@donsaladino) on
EMILY SKYE
Meet Emily Skye—Australian trainer, fitness model, new mom, and one of our favorite women in fitness. Her determination, positive attitude, and killer circuits go a long way when all you want to do is veg out on the couch. Don't believe us? Try one of her bodyweight workouts for yourself.
SHOULDER WORKOUT! ?? . Ensure your form is correct! ?? . . ??My Meal & Exercise Programs??LINK IN BIO! ??? . . @emilyskyefitness @emilyskyebeauty . ? Fitness gear: @reebok / @reebokwomen ________________________________________ .
A post shared by EMILY SKYE Health + Fitness (@emilyskyefit) on
GIDEON AKANDE
Gideon Akande has a charisma that can't be beat. The former Golden Gloves champion and Men's Health Next Top Trainer posts versatile training techniques that are high energy, super fun, and insanely effective. Try his workouts once and we promise you'll be hooked.
?Every-BODY, rock your body‼️? ___ My #workoutwednesday was all bodyweight and lots of movement.?? ___ It was simple – three speed-skaters followed by a few reps of whatever bodyweight variation came to mind.??? ___ Would you try this flow? What's your workout of choice? ___ @niketraining #bodyweight #bodyweightworkout #outdoorworkout #pushups #burpees #highknees #skaters #plankjack #squatjumps #PropelYeah #GideonAkande #wegotgoals #getfitwithgiddy
A post shared by Gideon Akande (@getfitwithgiddy) on
SAM ASGHARI
While he's best known as Britney Spears beau for the moment, Sam Asghari is also an up-and-coming actor and fitness model with serious workout chops. He and Spears post partner workout clips that go viral — but Asghari's solo workouts are nothing to scoff at on their own.
? #workout @britneyspears
A post shared by Sam Asghari (@samasghari) on
HANNAH EDEN
We can't get enough of Hannah Eden. Not only does she run PumpFit Club, a personal group training facility in Florida, but she also keeps her followers motivated by posting full-body workouts that will leave you dripping in sweat.
Feels SO good to be back at it and onto our regular training program @pumpfit_club I have never missed a #MonsterMonday so much in my life! It's only Thursday and I'm already dreaming of the Monday SWEATS! ✋? If you want to access my training program I have an online #Tribe that are are pretty inspiring and following it too! You should join us all. You can find the link in my bio xo HannahEdenFitness.com/sign-up #HannahEdenFitnessONLINE #HannahEdenFitness #HannahEden #PumpFit #PumpedAF #PumpFitClub #Fitness #SWEAT #HEF #FYR #FindYourReason #PumpFit #PUMP #SWEAT #SereneSoldier #RedefineFearless
A post shared by Hannah Eden (@hannaheden_fitness) on
THOR BJÖRNSSON
Björnsson is famous for his role as "The Mountain" in Game of Thrones—but he's also the reigning World's Strongest Man. He can deadlift over 1,000 pounds and takes his fitness so seriously that he's been known to down liquid chicken shakes. You don't need to go that hard, but we're pretty sure nothing will make you want to work out more than seeing The Mountain pump some iron.
200kg/440lb for 29reps. – @thorspowergym #Throwback
A post shared by Hafþór Júlíus Björnsson (@thorbjornsson) on
DYLAN WERNER
You've never seen yoga like this before. If you're looking to improve your mobility, let LA-based yoga instructor Dylan Werner be your inspiration. His body tends to defy gravity and he's the king of casually balancing his entire body weight on one arm.
It's about sensation, never about destination.
A post shared by Dylan Werner (@dylanwerneryoga) on
MATHEW FRASER
Winner of the 2016 and 2017 Reebok CrossFit Games, Mat Fraser is considered one of the fittest men on earth. Like any CrossFit enthusiast, his commitment to fitness is unwavering—and now yours will be, too.
#hardworkpaysoff #HWPO
A post shared by Mathew Fraser (@mathewfras) on
ALEXIA CLARK
Alexia Clark is a personal trainer who caters to all fitness levels and constantly switches things up. Bonus: She loves utilizing different types of equipment. Whether it's a medicine ball, dumbbells, a mini band, battle ropes, or a weight plate—you name it, she's posted inventive exercises with it.
Summer Sunday Circuit 40seconds on 20seconds rest 3-5 round www.alexia-clark.com #alexiaclark #queenofworkouts #workout #sundayfunday #workout #fitness #fitforHisreason
A post shared by Alexia Clark (@alexia_clark) on
SHAUN T
The creator of the Insanity workouts is a must-follow on Instagram. After scrolling through his feed, you'll receive a daily reminder that Shaun T's six-pack is unreal. You'll find everything from workouts tips, his clients' before and after transformations, and inspiring captions to fuel your fitness fire. (Check out the one lesson that turned Shaun T into a fitness mogul.)
They're more than just words #DigDeeper
A post shared by Shaun T (@shaunt) on
MASSY ARIAS
Massy Arias is an inked-up, shredded personal trainer who ends every one of her workout posts with a dance. The fit mom shares her plans with her followers in English and Spanish — so if you're bilingual and love to cap your hard work with fun, she's definitely worth the follow.
Happy Friday tribe! Well, let's get back to it, shall we? Back and core [working towards getting my pull up game back] tag a friend to challenge and let's get it! ? @iamcardib "she bad" www.Massyarias.com #motivation #workout #childofGod #butdidyoudie #beastmode _______________________________________________ Feliz viernes mi tribu! Dale que hoy es viernes y el cuerpo lo sabe. Trabajando en volver a ganar la fuerza que tenía en la parte superior del cuerpo. A dominar nuestro cuerpo, dale! Esta rutina trabaja primordialmente la espalda ylos abdominales. Sentirán bíceps también. www.massyarias.com #hijadecristo #shebad
A post shared by MankoFit ?? (@massy.arias) on
ANDY SPEER
This Men's Health Next Top Trainer and Peloton Tread instructor will help you switch things up when your routine gets dull. Speer, a certified strength and conditioning specialist, has abs so impressive it's hard to believe they're real—seeing those results alone should have you packing your gym bag now.
If you ever feel like the sand is washing out from underneath you… hold strong, trust yourself and keep your eye on the bell. #speerstrength ? @lisahaefnerphoto
A post shared by Andy Speer (@andyspeer) on
KEVIN HART
Come for the laughs, stay for the fitness. Kevin Hart has quickly become one of our favorite online motivators. The comedian has no time for your excuses—so check out one of his killer Instagram workouts if you want to work up a sweat.
It's all about progression people! Thanks @hollywoodhino & @justtrain #HustleHart #MoveWithHart
A post shared by Kevin Hart (@kevinhart4real) on
RICH FRONING
This CrossFit legend has won the "Fittest Man on Earth" title four times. Need we say more?
2 sets 18-14-10 Assault bike cals 9-7-5 Sandbag over the shoulder 200# Rest 5:00 b/t sets w/ coach Gipper @whatsrichdoing (follow along link in bio)
A post shared by richfroning (@richfroning) on
HUNTER COOK
You haven't seen mobility until you've witnessed California-based trainer Hunter Cook stretch. The man contorts his body like no one else and exhibits great strength in the process. Plus, his bulldog makes the occasional appearance on his feed, and no one can complain about that.
Ankle Rehab Update: Day 365. ⠀ Yeah. You read that right. ⠀ It's been a year since @deweynielsen tried to off me in the mountains. ⠀ Rehab though? Maybe not in the traditional sense of the word. ⠀ You see- most people rehab their injury with the mindset "let's get it back to the capabilities before the injury." ⠀ I call bullshit and say that's not enough. ⠀ Pain has been gone and I've had full ROM for 9 months now. ⠀ But I rehab this sucker every single day. ⠀ I am going to do everything in my power to bring up the force absorption capabilities in both ankles as much as humanly possible. ⠀ The reality is- like I say regularly- injury prevention is a myth. ⠀ I've blown out both ankles a dozen times each in my life. I didn't even rehab 90% of them and let them sit in an air cast. Tissue quality is shit in there. Sad, yet true. ⠀ My goal is injury mitigation. I rock climb. I trail run. I do stupid shit with my body. My ankle WILL roll again. Guaranteed. ⠀ I'll get hurt again- ??‍♂️. But- knowing that- how resilient can I make my ankle between now and then? ⠀ How many pounds of force can this sucker handle if I continue to focus on specificity and progressive overload year round? ⠀ We'll find out. Stay tuned. ⠀ All videos sped up 2-3x ⠀ Seen: positional isometrics- and a whole lot of eccentric neural grooving. And some other random feel good ankle movements. ⠀ #HunterFitness #FunctionalRangeConditioning #rehabilitation #injurypreventionisbullshit #injurymitigation #circusankles
A post shared by Hunter Cook (@hunterfitness) on
KENNETH GALLARZO
There's a reason Kenneth Gallarzo, vice president of the World Calisthenics Organization, has nearly half a million Instagram followers. His posts will show you how to use your own body weight to work out harder and longer to give you the muscle definition you're after—even if you don't have access to pricey equipment.
‼️First signs of rebuilding my planche after my shoulder injury ?? Great morning at the beach with @yashka_voronov before Battle of the Bars Bahrain ??????
A post shared by Kenneth Gallarzo (@progressive_calisthenics) on
JEREMY SCOTT
Arizona-based trainer Jeremy Scott has the ultra-lean, muscular body most guys would kill for—and his Instagram is a documentation of the hard work required to achieve it. He posts daily about what he's up to in the gym and what he puts on his plate—usually simple meals that consist of only protein and vegetables. It clearly works for him.
The "Triathlon" Challenge ~ Scroll for videos and my times on each exercise ~I stole this from @bobbymaximus ~ They quoted it as the "Hardest Workout you can do in 5 Minutes" (my 2 cents if it's not the hardest it's damn close) ~ The Setup: 1. Ski 500M 2. Fan/ Assault Bike 50 Cals 3. Row 500M all in 5 Minutes or Less. Took me 4:57 start to finish to complete …and I was on the ground for a good 15 Minutes in the fetal position felt like ? to be honest. I went Bike first at 1:31- Ski second at 1:40 and Row last at 1:41 ~ I picked this order because the bike is the hardest for me Row is the easiest…this is not only a crushing physical challenge but mentally to see how deep of waters you are willing to go and test what your true capacity is. Enjoy and tag me at #jeremyscottfitness if you give this a try the goal is 5 Minutes or less but for most people under 7 Minutes I think is a legit effort. @menshealthmag #assaultbike #concept2 #rowing #row #skierg #cardio #challenge #scottsdale #arizona #phoenix #az #86400 #workoutmotivation #fitnessmotivation #fitness #fitspo #fitfam #personaltrainer #fitspiration #fitstagram #workout #workouts #puke #gymjones #menshealth #womenshealth #onlinecoaching #saturday
A post shared by Jeremy Scott Fitness (@jeremyscottfitness) on
GUNNAR PETERSON
If there's a bangin' celebrity body out there, Gunnar Peterson probably had something to do with it. He's worked with countless NFL and NBA athletes and big name celebrities like Khloe Kardashian. Also, J Lo says he's the best trainer she ever had—and who are we to argue with those results?
Multi-planar, ankle mobility, glute intensive, cardiovascular demand, core and more… basic weekend stuff, ya know? @reactive_training @inertiawave @mbslingshot @torque.fitness @function.first
A post shared by Gunnar Peterson (@gunnarfitness) on
JEANETTE JENKINS
Jeanette Jenkins is all about athleticism. Her clientele includes NFL stars, NBA champions, and Olympic gold medalists. You don't have to be a pro to follow her workouts, though. Her feed is full of step-by-step workouts that anyone can try.
Abs & Booty 8Exercise Mini Band Circuit! ?My booty is still sore these are the truth! ???9 More Bonus Exercises in my #InstagramStories ?It's week3 of our #SummerBody Bootcamp in the club @hollywoodtrainerclub www.TheHollywoodTrainerClub.com make sure you login & complete todays's workout! It's never too late to join us, all 30Days of this bootcamp are in the #VirtualGym under the #Exercise section so you can start today! ?Here's a BONUS #MiniBand Circuit that focuses on your #Abs and #Booty 30-45sec of each, 2-3sets! Give it a try! (Song #GetBusy by @duttypaul ❤️??) #MiniBands #Bootcamp #WorkoutMotivation
A post shared by Jeanette Jenkins (@msjeanettejenkins) on
BRET CONTERAS
Bret Conteras is no joke: He's a certified strength and conditioning specialist with a Ph.D. in sports science. And yes, people call him the "Glute Guy," so we know who you'll be turning to on your next leg day.
I'm receiving numerous questions about the staggered stance (aka b-stance) hip thrust. It's a mostly single leg exercise so you don't have to use nearly as much loading as you do with double leg hip thrusts. But it's much more stable than pure single leg where you raise one leg off the ground, so you use more loading than you would with single leg hip thrusts. Start with your weaker leg and then match the number of reps with your stronger leg. If you have an EZ-bar, use it preferably. The smith machine works great for these too. Begin with around 30% of your hip thrust 1RM and adjust from there. We like 3 sets of 10 at Glute Lab. Thanks to @benbrunotraining for this gem. #thethrustisamust #gluteguy #glutelab
A post shared by Bret "Glute Guy" Contreras PhD (@bretcontreras1) on
JAY MARYNIAK
After New-York based personal trainer Jay Maryniak placed first in a CrossFit competition, he was diagnosed with Type 1 diabetes—but that didn't stop him from pursuing his love for fitness. The man loves to mix things up with kickboxing, gymnastics, strength training, cardio, and more.
What are your calisthenics goals?? What moves do you aspire to master? Or what's your favorite calisthenics movement? Leave a comment below?????? #wheninrhone @rhone
A post shared by Jay T. Maryniak (@jtm_fit) on
MIKE MARCHESE
Through his fitness career, Mike Marchese has experimented with bodybuilding, martial arts, gymnastics, powerlifting, and more. He loves throwing a mix of circuits, high intensity interval training, and calisthenics at his clients—so check him out if you're looking to rev up your routine.
"There are two ways of exerting one's strength: one is pushing down, the other is pulling up."
A post shared by Mike Marchese (@upyourfitness) on
ROB EVANS
When he's not hanging out in front of the camera as a fitness model, Rob Evans is in the gym as a boxer and personal trainer. He's passionate about helping people of all body types and fitness levels. The challenging workouts in his feed will make you feel inspired, and his words of encouragement will motivate you to actually give them a shot.
What's happening ppl, my insta was hacked for the past few months, literally just got it back this morning,it was actually cool to have a break tho, you should try it sometime. Anyway back one it, if anyone wants a session @bxrlondon get at me, I'm there everyday. #boxing #boxingislife #pt #bxr
A post shared by Rob Evans (@robjamesevans) on
JOE HOLDER
For NYC-based Nike trainer Joe Holder, fitness isn't about the glory, it's about pushing other people to achieve their goals, which genuinely makes him happy. That's a trainer we can appreciate.
???⚜️A few landmine variations to add to your routine above so grab a friend and T them up Remember, these moves can also be simplified as you build your proficiency. Use less weight, use both legs in the press before you go one, master the hinge + squat pattern on your landmine before making it explosive, etc. you get the point Also I know many of us deal with the post holiday ruts ?, so linked back with @gq to discuss how to jump start those wellness habits. Hit link in bio to read more Perm Link ➡️ http://bit.ly/GQFitTips #Ochosystem #NikeTraining #? ? @bhgross
A post shared by Joe Holder (@ochosystem) on
RICKY WARREN
Ricky Warren is the head coach and founder of Bodyweight Gurus in London, a calisthenics strength and power workshop. He specializes in mixed martial arts and his fitness feats are impressive—but you'll find a huge range of moves to add into your own circuits.
Can you go this wide? Almost eating grass with this Japanese handstand, no assists ???? Need to clean the form up a bit more but feels pretty good. Working variety into your handstand training improves your overall hand-balance stability, neuromuscular control and transitions. Using unstable surfaces and walking on your hands also has beneficial effects on composure and skill upside down… #bodyweightgurus @bodyweightgurus www.bodyweightgurus.com
A post shared by Head Coach @BodyweightGurus® (@rix.official) on
Source: Read Full Article