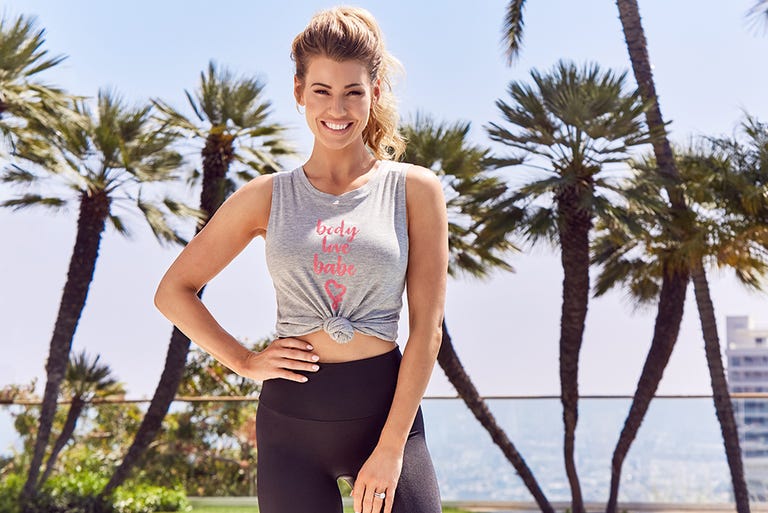 Take a quick scroll through fit-fluencer Anna Victoria's Instagram page, and you'll find no shortage of videos showcasing impressive workout moves (and, let's be real, showing off her insanely strong body).
But when it comes to her fave moves to tone her abs and butt, the personal trainer and Body Love App creator actually prefers some pretty simple ones.
Core + Balance + Back + Arms ?? Do 15 reps on each side and repeat 3 times. . If you aren't the best at balancing (like me :)) then all the more reason to incorporate these into your routine. If you need to rest every few reps, do it! In the second exercise you can see I lost my balance for a moment and in reality, I lost my balance many times. But that's how you improve – by falling/struggling and getting back up again! ? . Be sure you're keeping your core tight, that's one equation to maintaining your balance. Another important aspect is to look at ONE spot and keep looking there. Moving your head/eyes all around and you'll fall immediately. Learning how to balance and stabilize is one of the most overlooked exercises in training but is what will help prevent injury, in and out of the gym. #fbggirls #bodylovebabes . Try @bodyloveapp free for 7 days! www.annavictoria.com/bodyloveapp
A post shared by Anna Victoria (@annavictoria) on
To get the scoop on her personal fitness routine, including her go-to abs and butt moves, WomensHealthMag.com caught up with Anna at an event celebrating the launch of her activewear capsule collection with K-Deer (which is sold exclusively on Gilt.com and benefits JED Foundation).
A post shared by Anna Victoria (@annavictoria) on
"I really like alternating plank dips," she says. "The reason I like it is it targets your internal core muscles, but also your obliques. So it's not just one-dimensional."
And for the booty? "Glute bridges," Anna says without hesitation. "They're definitely my number one go-to."
Here's how to master both moves:
Plank Hip Dip
How to: Start in a forearm plank position. Make sure your abs are tight and you're squeezing your butt. Slowly dip right hip to right side until hips are about one inch off the ground. Return to center, then repeat on the other side. Continue alternating.
Anna demos hip dips at the beginning of this sequence, followed by some more core challengers:
Who's up for this plank challenge? ? but before we do that…I just posted my blog review of Pre-Workout energy supplements! Yay! ? Tap the link in my bio then go to "blog" at the top to read it. Looking forward to reading your feedback! ? Now for this plank challenge ? remember to focus on pulling your belly button up towards your spine to fully engage your abs. Your hands should be clasped below your nose, and your shoulder blades should be slightly rounded over (not your back, just your shoulder blades) to ensure the tension is all on your abs, and not on your shoulder muscles or arms. Do 20 reps of each for 3 rounds. Tag a friend to do them with you! #fitbodyguide for my complete 12 week Fit Body Guides: www.annavictoria.com/guides
A post shared by Anna Victoria (@annavictoria) on
Glute Bridge
How to: Lie faceup on the floor with your knees bent and feet flat on the floor. Raise your hips so your body forms a straight line from your shoulders to your knees. Lift one knee to your chest, lower back to the start, and lift your other knee to your chest. Continue alternating back and forth.
Here, Anna demos some variations on the glute bridge:
The glute bridge is one of my favorite booty exercises, here are a few variations to change it up! ? Always be sure to squeeze your glutes, that's how you'll ensure muscle growth ?? Also, keep your core tight throughout and that will help you maintain the lifted position and strengthen your core. Do each exercise 15 reps for 4 rounds. Tag a friend! #fitbodyguide www.annavictoria.com/guides
A post shared by Anna Victoria (@annavictoria) on
As WomensHealthMag.com has previously reported, Anna does six 30-minute workouts a week, usually over the course of five days. "There's three strength sessions, and three cardio and abs sessions," she says, "I normally end up doubling up at least once a week." And she makes sure she takes plenty of time to rest and rebuild those muscles. "Rest is just as important as your workout days," she says.
Of course, cranking out all-day-every-day abs and butt workouts isn't everything—you want to target your entire body, not just those coveted zones. So, for more moves from Anna that will set your whole form on fire, check out her Insta or Body Love App.
Source: Read Full Article