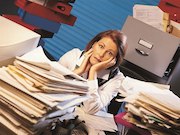 MONDAY, July 2, 2018 — Working lots of overtime may get you appreciation from the boss, but it might be bad for your health.
New research suggests that women who clock 45 or more hours a week have a higher risk of type 2 diabetes than women who log 35 to 40 hours weekly.
The study authors aren't sure why extra work may boost diabetes risk, or why this link was only found in women. But they suspect it might have something to do with the hours of unpaid work at home that women tend to engage in more than men.
"It's important to understand that the work environment does play an increased role in the risk of type 2 diabetes and other chronic diseases. Working long hours is not a healthy thing to do," said the study's lead author, Peter Smith. He's a senior scientist at the Institute for Work and Health in Toronto.
"If you look at time spent outside of work, women do more care of household members and more routine housework. The only thing women don't do more of is watching TV and exercising," Smith added.
Type 2 diabetes is on the rise. By 2030, it's estimated that 439 million people worldwide will live with the disease, up 50 percent from 2010, the researchers said.
Diabetes is a major risk factor for other chronic diseases, such as heart disease and stroke, the study team noted.
Obesity and a sedentary lifestyle are known risk factors for type 2 diabetes, but genetics also play a role, according to the American Diabetes Association.
The current study included more than 7,000 working adults from Ontario, Canada. The participants, who were followed for about 12 years, were between 35 and 74 years old.
During the study period, one in 10 people developed diabetes.
The researchers accounted for factors such as age, gender, marital status, parenthood, ethnicity, residence, lifestyle, weight, smoking and any chronic health conditions. They also included factors such as shift work, number of weeks worked in a year, and whether a job was active or sedentary.
The study found no statistically significant link between men's work hours and developing type 2 diabetes.
But in women, working 45 hours or more was associated with "at least a 50 percent increased risk of developing diabetes," Smith said.
It should be noted, though, that the study could only show an association between long work hours and diabetes; it wasn't designed to prove a cause and effect.
The study authors suggested that long work hours may cause a stress response that might lead to hormone imbalances and insulin resistance that may contribute to the development of diabetes.
Dr. Joel Zonszein, director of the Clinical Diabetes Center at Montefiore Medical Center in New York City, reviewed the findings.
He said many things might account for the gender difference, including family-work responsibilities, sleeping problems, depression and the perception of a high total workload from jobs and non-paid work at home.
"Working 45 hours or more weekly can be associated with an increased incidence of diabetes, and of course, in [the United States] many have a double job, so they work many more hours than what is quoted by our Ontarian neighbors," Zonszein said.
The study was published online July 2 in BMJ Open Diabetes Research and Care.
More information
Learn more about type 2 diabetes from the U.S. National Institute of Diabetes and Digestive and Kidney Diseases.
Posted: July 2018
Source: Read Full Article