Last month, 15,000 Minnesota nurses went back to work after a 3-day strike without resolution on a contract. It was one of the latest in a series of strike notices from nurses across the country.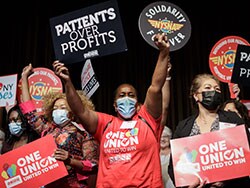 Nurses with the New York State Nurses Association during a recent protest.
Tens of thousands of unionized nurses across the country this year are renegotiating contracts for the first time since the pandemic started. Feeling overworked and underpaid by hospital systems they believed profited over the course of COVID's surge, these nurses are demanding increased safety measures, staffing mandates, fair pay, and adequate PPE, among other reforms. And the slow response from the administration is sending these healthcare professionals to the picket line.
In New York, for example, more than 30,000 of the 42,000 unionized nurses are up for contract negotiation either this fall or the coming spring, according to Kristi Barnes, spokesperson for New York State Nurses Association (NYSNA).
Hospitals and unionized employees typically renegotiate their contracts every 3 years. For this reason, nurses around the country are weighing whether to join or remain in unions — in part based on how they were treated during the pandemic.
Unlike years earlier, nurses have a new understanding of how vulnerable they are amid crises. Asked to work in unsafe conditions, go without proper protection, and cover the responsibilities of multiple people for months, striking nurses have reported they are unwilling to put themselves at risk any longer.
According to the 2022 Medscape RN/LPN Compensation Report, nurses in unions, namely RNs, earn higher salaries than their non-union peers. But most nurses are not in unions. Only 17% of registered nurses and 10% of licensed practical and licensed vocational nurses were union members in 2021, Unionstats.com reports.
The salaries of both union and non-union nurses have been increasing over the past 5 years, but registered nurses (RNs) and licensed practical nurses (LPNs) not in unions saw larger increases this past year, according to the Medscape study.
Finding a Middle Ground
So why should nurses be in unions? One of the benefits of a union, Barnes said, is that there's a process to address nurses' concerns. Only with the weight of numbers can nurses truly come up against administrators, she said. The NYSNA, believed the oldest nurses association in the country, recently voted to affiliate with National Nurses United, the largest union and professional association of RNs, "to mutually grow and strengthen the power of nurses within the state and nationally to advocate for themselves and their patients," according to a joint statement.
In Wisconsin, nurses worked through a September weekend with UW Health lawyers and leaders to agree on a contract. It was the culmination of a 3-year effort to unionize, which began before the pandemic. The administration finally recognized the union, and the strike set for the following Tuesday was narrowly avoided.
But just a month earlier, it looked like the efforts to unionize would fail. At a meeting in August, the administration refused to acknowledge the union and said they would have no further meetings with organizers, according to Zach Sielaff, an RN and union organizer at UW Health.
That's when the strike pledges began to multiply, Sielaff said.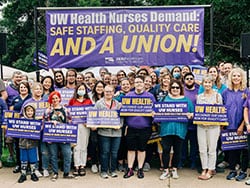 In September, the administration at UW Health in Wisconsin recognized the nurses' union after a 3-year effort that began before the pandemic.
The hospital later recognized the union and published an agreement that states that UW Health and the nurses' union, SEIU Healthcare Wisconsin, "intend to work together to address critical challenges and issues facing the nursing profession…to promote the highest quality of patient care, retention and recruitment of skilled professional nurses, and highest job satisfaction" of its registered nurses.
Last Tuesday, union nurses met with UW Health administrators for the first time since 2014, presenting proposals for safe staffing and retention, according to a union representative, who asked not to be identified.
In Minnesota, however, striking nurses haven't gotten the same resolution. The Minnesota Nurses Association (MNA) spent 5 months negotiating a new contract with no resolution on issues of pay and staffing levels. The nurses went on strike for 3 days in mid-September, mainly at hospitals in the Twin Cities and St. Paul. But administrators didn't come to the table and nurses are still working without a contract.
MNA President Mary Turner told Fox 9 in Minneapolis that the nurses are demanding (a) the right to refuse unsafe assignments and (b) language that requires the hospital to get 50% of nurses' approval before a staffing change on their floor — neither of which the hospital wants to agree to.
One nurse told Fox that a second strike is not off the table and the organizers hope that the first strike gives them more bargaining power now that employers know what it's like when they aren't in the hospital. MNA did not respond to multiple requests for comment about the latest bargaining session.
Backing Out of the Union
Not all nurses are in favor of unionizing. About 80 miles away from the nurses striking in the Twin Cities, nurses at Mayo Clinic Mankato were rallying to decertify the MNA union. Represented by the National Right to Work Foundation, an organization whose mission, according to its website, is to "eliminate coercive union power," the nurses successfully voted 213 to 181 to end union representation.
In a statement on the National Right to Work Committee website, NRWF President Mark Mix said, "These nurses worked hard to exercise their right to remove a union they didn't feel represented their interests, and Foundation staff attorneys were happy to help them."
The Minnesota Reformer quoted one union leader as saying the Mayo Clinic avoided unions by matching the pay and benefits won by union nurses, and when pay and benefits are competitive, union dues can seem like "an unnecessary tax."
The organizing nurses said in a statement provided by the NRWF, "As employees, we have the right to choose whether we want to be represented by a union or not…We were continuously being told to not trust our leaders or those that expressed varying opinions from our union representation."
Meanwhile, MNA didn't seem to "hear our voices," the statement read. "We are excited to no longer face the barriers that were preventing us from adapting to the needs of our patients and ourselves," the nurses said.
The NRWF provided legal aid to similar petitions in Maine and Massachusetts this year, but in both these cases, nurses voted to retain their union.
Since Mankato's vote this summer, two other Mayo clinic locations have gotten enough signatures to hold decertification votes. One followed through in decertification; the other voted to keep their nurses' union. On the heels of union tension, Mayo also announced this month that it would give all employees a 6% or greater raise — except unionized staff.
Ginger Plumbo, Mayo Clinic's communications manager, said its union salary increases are governed by their collective bargaining agreement and future salary adjustments are discussed when contracts are renewed.
Nursing issues aren't only confined to hospitals. At The Grove at New Castle, a nursing home in western Pennsylvania, nurses went on a 7-day strike. Among their demands was a pay increase for everyone working at the facility so they could attract and retain new staff. "​​Last night I had 18 people," to care for, Lindsey Burns, a Grove LPN, said in late September. With such staffing, it's hard to give residents the care they need, she added.
When Burns had to make the tough call to leave residents to the care of contract workers to strike, it was a difficult decision, but she did it for the good of her patients, she said. "I believe it's turning a corner," she said of the new post-COVID contract. "If my facility can do it, others can too."
For more news, follow Medscape on Facebook, Twitter, Instagram, YouTube, and LinkedIn
Source: Read Full Article