Whether you follow the Kardashians or not, you're well aware the whole family is among Hollywood's elite. And while Kim has gone through multiple pregnancies over the years, she continuously manages to bounce back in the limelight looking fabulous. Back in 2016, Business Insider reports Kim lost a staggering 60 pounds thanks to her strict routine.
So, what's the Kardashian secret to looking like a superstar — and how much money does it take to make it happen? Here's what we know.
Kim works out with celebrity trainer Gunnar Peterson – $15,000 for six weeks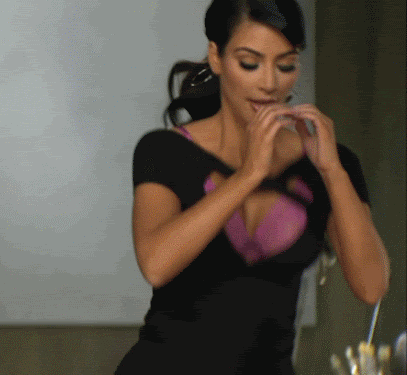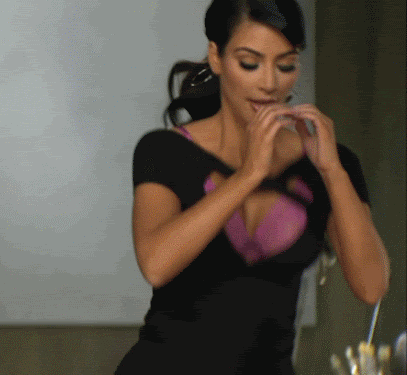 She's consistent with her workouts and training sessions. | Giphy
This Kardashian is well-known for her famous behind. Her personal trainer, Gunnar Peterson, is all about showing off Kim's best assets instead of whittling her body down to nothing. With an emphasis on movements like squats, kettlebell swings, and deadlifts, Peterson works to emphasize Kim's signature butt and tiny waist.
Personal celebrity trainers come at a steep price, however — Livestrong.com estimates six weeks of time with Peterson costs around $15,000. And we estimate you'll start seeing strength gains after four to eight weeks of intense training.
She goes for low-carb foods – $40 per week
Her diet consists of lean meats and lots of vegetables. | Jatrax/iStock/Getty Images
You are what you eat, and Kim's amazing figure and impressive weight loss is due in large part to her diet. Self explains she follows the Atkins 40 diet, which means she restricts her carbs to just 40 grams per day. She supplements the rest of her diet with tons of fresh veggies and protein.
You'll pay a lot more at the grocery store for this kind of diet. Today estimates you'll pay around $40 more a week than if you were to stick to the average American diet. And if weight loss is your goal, remember — restricting only enough to lose a pound a week is best, so this certainly isn't a quick fix. Calculate your daily caloric needs and slash that by 500 calories a day to lose a pound a week.
She has a chef cook her breakfast – $70,000 per year
Kanye and Kim never eat a junky breakfast. | Dimitrios Kambouris/Getty Images
Having a chef cook meals for you sounds like the perfect way to stay on track with your nutrition. And Kim K tells Harper's Bazaar her famous husband Kanye always has a chef come in the morning to cook a healthy breakfast for them both.
We're not completely sure how much Kim and Kanye spend on their personal cooks, but Food & Wine gives us an estimate of $70,000 for a chef who's living in the home and available five days a week.
Kim and Kanye visit a nutritionist – $20,000 per year
This couple is committed to being healthy and fit together. | Alain Jocardi/AFP/Getty Images
With Kim being a fan of the Atkins diet, it makes sense that her nutritionist is Colette Heimowitz, vice president of education and nutrition at Atkins. Elite Daily says Heimowitz helps Kim with her nutrition plan, which includes limiting foods that impact her blood sugar.
We're not exactly sure how much consultations with Heimowitz cost, but we're willing to bet the Kardashian-West clan shell out big bucks. Smarty Cents says some celebs pay up to $20,000 a year for their nutrition advice.
She also has had butt injections – $300
Kim Kardashian has had her share of health issues and treatment. | Loic Venance/AFP/Getty Images
The rumors are true — Kim's had butt injections. Us Magazine explains she has psoriasis, a skin condition that causes the skin to become thick, patchy, and scaly. Kim gets cortisone shots every few years to help control her symptoms.
While a butt augmentation can cost thousands, a simple cortisone shot costs as little as $25 to as much as $300 depending on the location. If you do go the implant route, expect to wear a support garment for at least two to three weeks after surgery.
She uses a waist trainer for those hourglass curves – $59
I'd go blonde for that D…
A post shared by Kim Kardashian West (@kimkardashian) on
On the more affordable side of Kim's routine, she's a big fan of this waist trainer by Angel Curves. For only $59, you can sport one of these while you're lounging around your house or working out for a toned tummy.
Here's the issue, though — Angel Curves claims this waist trainer helps you burn more calories and trim your waistline, but you can't target fat loss. And HuffPost explains there's really no way for these devices to actually tone your midsection. If you're hoping this is a quick fix to a flabby middle, you'll be waiting a long time.
There are rumors she's had a nose job and eyebrow lift – $15,000
Kim Kardashian's famous features are often analyzed by fans and the media. | Timothy A. CLary/AFP/Getty Images
Though Kim K denies having any facial work done, there's plenty of speculation out there concerning her perfect eyebrows and tiny nose. And if Kim has had work done, we're betting she paid top dollar. Bankrate estimates rhinoplasty can cost upwards of $10,000 with anesthesia included, and doctors tell RealSelf they charge around $5,000 for an eyebrow lift.
If you go the plastic surgery route, know it takes several weeks of recovery to start seeing improvement in swelling. And if you don't feel like shelling out $15,000, just try contouring with makeup instead.
Source: Read Full Article