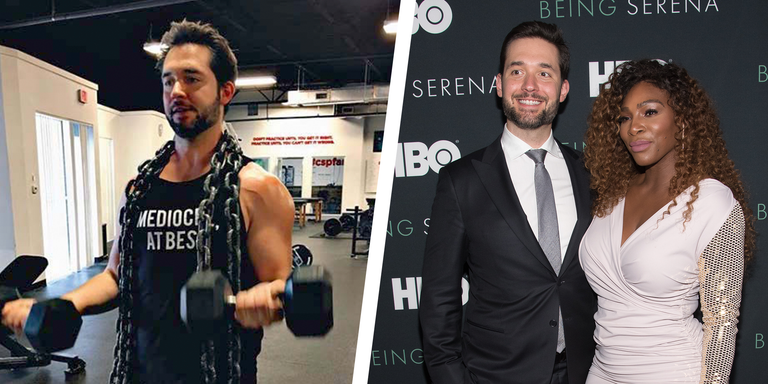 Lots of guys make excuses to skip the gym, but Alexis Ohanian isn't one of them.
It wasn't always that way. For the first 34 years of his life, the entrepreneur and co-founder of Reddit let his business take priority over his physical wellbeing. He took pride in his ability to run on minimal sleep and staring at screens for days on end.
But during the 2017 Australian Open in Melbourne, when Ohanian learned that he and wife Serena Williams were going to be parents, he decided it was time to start thinking about his health for once.
"I knew I needed to start taking my fitness seriously," Ohanian said in the days leading up to Father's Day, his first since the birth of daughter Alexis Olympia. The new dad — who's partnering with Johnnie Walker to celebrate the exciting milestone — opened up to MensHealth.com about his healthy lifestyle transformation.
Made a promise to @olympiaohanian when I first met her (she was the size of a poppy seed) that I was going to start focusing on my health as much as I focus on my business. Lots more work to go with both, but I've got the best partners I could have in my personal and business lives. And my legacy is almost starting to talk, so she'll be cheering soon enough. Shoutout coach @timgero ?? and my crew @cresseysportsperformance
A post shared by Alexis Ohanian Sr. (@alexisohanian) on
Getting started in the gym
"My first step was — literally — a step down to the gym at the hotel we were staying at in Melbourne, and just picking up the free weights again," Ohanian explained. "I like strength training because it feels very efficient, and it's different enough to distract me."
He couldn't say the same about running on the treadmill or riding the bike. (Hey, he isn't alone.) "I was very anti-cardio for a really long time," Ohanian confessed. "I'd say about six months ago, my wife — who knows a thing or two about fitness — finally convinced me."
The hardest part about cardio is keeping himself interested.
"I have tried everything, from an app that lets you pretend there are zombies chasing after you, to just downloading my favorite TV shows on my phone," he said. "If you're watching my wife's Instagram or Snapchats, you'll see she finds some really inopportune times to catch me on my phone while I'm in the gym."
Family day yesterday. @olympiaohanian was not having it though. @serena collection top.
A post shared by Serena Williams (@serenawilliams) on
The muscle he loves and hates to work out
These days, Ohanian's workouts start and end with 10 minutes of cardio to get his heart pumping, but they mostly involve free weights, and occasionally some machines. "I'm a pretty basic, straightforward dude," he says.
Ohanian did put his trainer, Tim, on one very specific mission: "I needed to be able to impress Serena with my glutes."
Tim accepted the challenge, crafting a killer lower body routine for his client. It features a fair amount of hip thrusts — a popular move that works your glutes without overloading your back.
"They're awful and awesome," Ohanian said. "I hate doing them, but I love doing them."
Have the results been noticeable?
"You should ask my wife that."
If you follow my wife (if not, you should) you already know that no one is safe… ? just you wait, @serenawilliams…
A post shared by Alexis Ohanian Sr. (@alexisohanian) on
Hitting the gym with Serena Williams
The pair sometimes hit the gym together, especially when they're traveling. But when asked if he and Williams do couples' workouts, Ohanian made one thing very clear: "She's too serious to work out with me."
He doesn't mind.
"The nice thing is, she's the G.O.A.T., and I don't work in her industry — it's obviously not a competition, because she won," he said. "I find it both liberating and motivating. I'm free to be the best me, and she's free to be the best her."
Spartans support Spartans.
A post shared by Alexis Ohanian Sr. (@alexisohanian) on
He can't compete — but he still tries to impress her
"I'll flirt with her from across the gym," Ohanian said.
His go-to move? The tricep pulldown. Ohanian explained exactly how he deploys it in an attempt to woo his wife:
"If you get pretty deep into the workout there… you're like 45 minutes in, and you're kind of glistening a little bit, and you're in the sleeveless shirt, and you hit that tricep pulldown… I'll look over — it's so obnoxious — I'll look over and flirt with her, and she'll roll her eyes. It's always the same thing. I'm sure she's tired of it by now. She hasn't said anything — she indulges me."
Now that's love.
Attacking the weekend like… Also — hey sis! Vee 2Xed this Spartan challenge.
A post shared by Alexis Ohanian Sr. (@alexisohanian) on
His goal for 2018? Getting a six-pack.
Between Williams and Tim, his trainer, Ohanian says there's a plan in place for washboard abs by the end of the year.
"Believe me, when I see that first little outline of a six-pack, I'll be raising a glass and toasting a little bit of Blue Label to celebrate," he said.
He'll be celebrating a lot of milestones in the near future — and not just in the evolution of his abs.
"It feels like the chances that I have now to celebrate are even better," he said. "As much as I loved my first 34 years, when I was basically just living for me, I'm really excited for my next 34 years as I'm living for this house — for this family."
Source: Read Full Article