Let me get something out of the way really quick: I am not Carrie Underwood. I don't have the voice of an angel, I'm not a natural blonde, and I definitely don't have those iconic legs.
What I do have is four pairs of CALIA by Carrie leggings, and I'm never going back.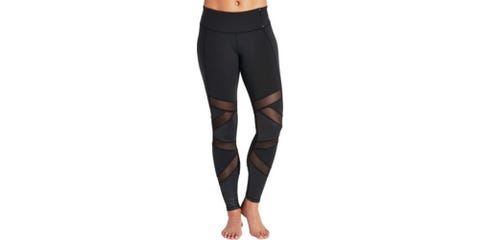 Calia Shine Textured Pieced Leggings, $37, amazon.com

Courtesy of CALIA By Carrie
Carrie's leggings are like the unicorn of athleisure. They are somehow perfect for every situation, whether you're a country superstar or a magazine editor who sings in the shower.
At the gym, they're my best workout buddy. They have enough compression to hold everything in without suffocating me, and they are *totally squat proof* (which is my biggest complaint about 99% of the leggings that I own).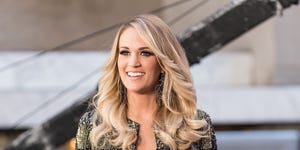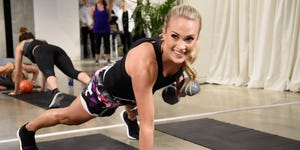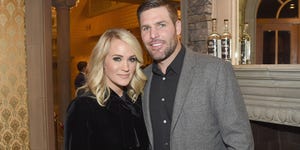 Oh yeah, and they're comfy as HECK, which also makes them the perfect travel companion, the perfect work wife, and the perfect complement to a night in with Netflix.
My absolute favorite from Carrie's collection are the "textured" black legging. They feature feature trendy mesh panels, and I've gotten more compliments on these than any other pair of leggings I own. But I'd be lying if I said that's the only pair I own.
I also love the classic black—which, honestly, you could totally get away with wearing to the office. Then there's the bold, beautiful prints like the limited edition "sea anemone" capris. And last, but not least, the tri-colored leggings, which a guy at the gym once told me made me look like a superhero (not kidding).
Yes, I own all of these, and yes, they're on constant rotation.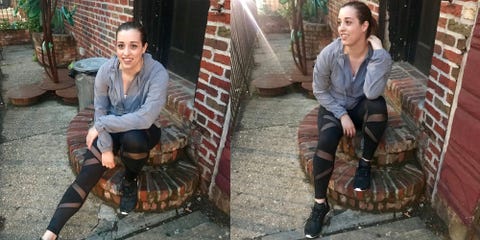 Courtesy of Amanda Lucci
I had the pleasure of meeting my American leggings idol Carrie a few weeks back, and when I asked her what her favorite CALIA piece was, it turns out we were kindred spirits.
"I do love the tights. I live in them every single day," she told me. "I might wear jeans, like, two or three times a month—I'm not kidding. It's great that I have that in my life!"
I gotta say, if I can't be Carrie Underwood and have my own line of perfect leggings, I'm totally content just wearing hers.
Source: Read Full Article