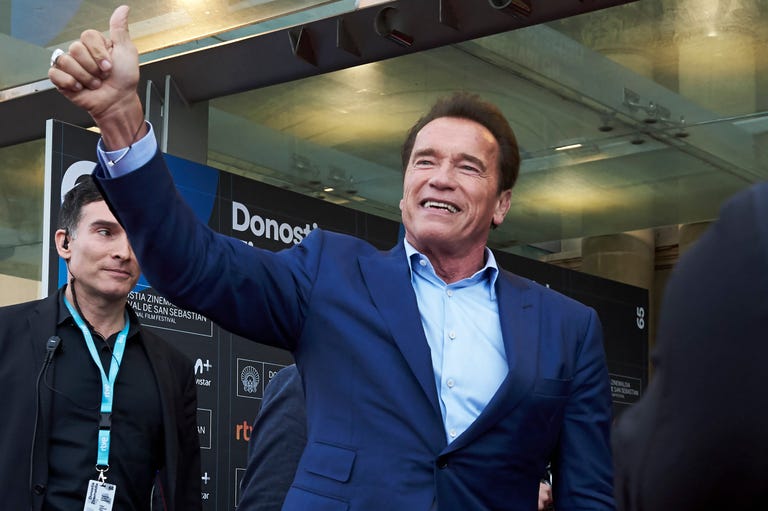 Arnold Schwarzenegger only just returned to his natural habitat, the weight room — but the bodybuilding icon is already back to pulling double duty.
The 70-year-old Governator, who is still recovering from a March emergency open heart surgery, has been posting some impressive workout videos to Instagram over the last few days. He kicked off his return by taking on the curl machine last week, then hit a double session over the weekend.
Second workout of the day! The surgery comeback is all about reps, reps, reps.
A post shared by Arnold Schwarzenegger (@schwarzenegger) on
Arnold ripped through some reps on an ab crunch machine in his home facility, which he said was part of his second workout of the day after training earlier at Gold's Gym.
"For a comeback, it's all about reps, reps, reps," he said to his followers after finishing his set. "There is no magic pill."
The phrase is on the dad hat he's wearing, which you can buy here.
Unsurprisingly, Arnold is right. When you're just starting strength training or coming back to the weight room after a long layoff, the first order of business should be to acclimate your neuromuscular connections and build up your muscular endurance. You won't immediately jump into high weight, lower rep work to build muscle and strength right away. (Of course, you should always consult with your doctor before you hit the gym after surgery.)
At this rate, Schwarzenegger will be back to his typical iron-pumping lifestyle in no time, so we'll be able to follow along as he continues to inspire in his seventh decade.
Source: Read Full Article