Although retirement means travel for most, it also means you'll have to be vigilant with certain ailments like osteoporosis. Osteoporosis is a bone disease where either your body makes too little bone, you experience attrition or both, according to the National Osteoporosis Foundation.
Two complications from the disease include fracture and pain. The disease typically occurs in people age 50 or over and can strike both men and women. Approximately 54 million Americans have the disease, which can be managed with medication and care. But what steps should you take if you plan to fly or hit the road and you have osteoporosis? All these tips can help, but the information on page 14 maybe the most important.
1. Understand any upcoming challenges before your trip
Woman in the car | kieferpix/iStock/Getty Images Plus
Before any trip, know your condition and any challenges you may face on the road. Have a discussion with your doctor about reasonable limitations you might have, according to Osteoporosis Canada. It is a good idea to assess your medical needs and make copies of your medical records for travel. You may also consider working with a travel agent who understands osteoporosis and how to plan accordingly.
Next: You may need certain vaccinations depending upon where you travel.
2. Take medically necessary steps ahead of the trip
Vaccine | iStock.com/Mckyartstudio
This step is likely to be vital for just about anyone who travels. But you should be especially careful if you have osteoporosis since you are prone to fracture. In the event your travels require special vaccines try to be as proactive as possible, according to Osteoporosis Canada. Some vaccines should be given about six months prior to departure so plan accordingly.
Also, anticipate what you might need to make your trip go smoother. This includes requesting a wheelchair at the airport or cruise ship, booking an aisle seat on the plane for easy accessibility or making concessions for a special diet.
Next: Your luggage can make a huge difference.
3. Use the right luggage
Luggage | ax612/iStock/Getty Images
Compromised bones mean you need to lift as little as possible while on vacation. Lugging overstuffed luggage can strain your bone structure, so it may be time to update your luggage. Look for a lightweight spin feature suitcase, according to Staysure. Go with something that has both quality and easy maneuverability so you can manage your luggage without assistance.
Next: Leave the 'Sex in the City' heels at home.
4. Pack appropriately for your trip
Tennis shoes | iStock.com/5second
Of course, you don't have to completely abandon fashion for frumpy shoes. But you should pack footwear that won't make your osteoporosis worse while on vacation. If you have to pack some hot (and reasonable) footwear for a wedding or event go for it. Otherwise consider wearing shoes with support and a non-slip sole for the rest of your trip, according to Staysure. A nonslip sole will reduce the possibility of falling on slippery pool decks or wet pavement.
Next: Stay (physically) strong during your travels.
5. Stay active during your journey
Man walking | bokan76/Getty Images
Perform any doc ordered stretches or exercises during your trip. This will reduce soreness and stiffness. Movement may also help to reduce swelling, according to Staysure. During a long journey, get up and walk around every 45 minutes. Also, try to maintain good posture in your seat to avoid slumping, which can put stress on your joints.
Next: An ounce of prevention may be a lifesaver.
6. Check out travel insurance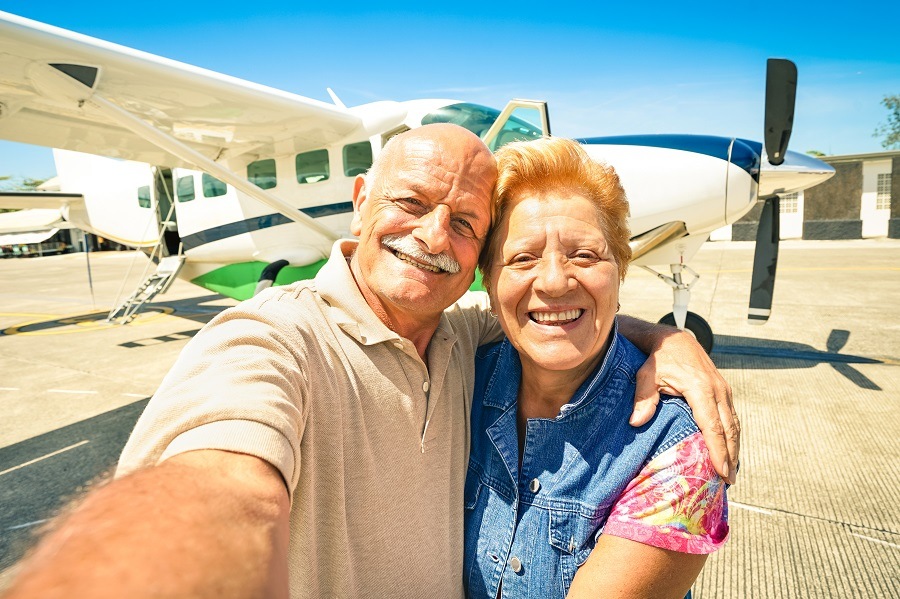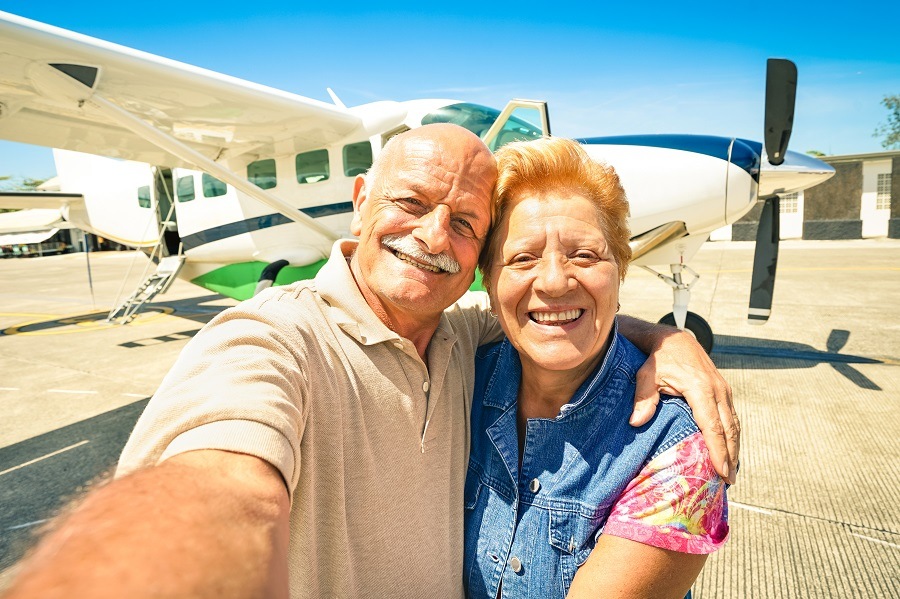 Happy couple by an airplane | ViewApart/iStock/Getty Images
Before osteoporosis, you may not have given travel insurance a second thought. But now travel and medical insurance might be a good idea and give you peace of mind. If you become ill or injured, especially while traveling abroad, medical or travel insurance can cover costs, which could possibly add up, according to Osteoporosis Canada.
Scrutinize any policy, as some may not cover certain illnesses or conditions. Also, explore cancellation insurance in case you need to change or cancel your trip.
Next: This travel program may offer a 24/7 service.
7. This may even be a good idea
Travel concierge | jacoblund/Getty Images
Especially handy if you are traveling abroad, a travel concierge service may be helpful to not only navigate the country but also help you quickly identify medical assistance, according to Medium.
Travel concierges help you find hotels, restaurants, attractions, and even translate the language in a foreign land. But a travel concierge may also accompany you to the doctor if you need it, which could be helpful especially if you are traveling alone.
Next: Be extra cautious if this occurred.
8. Take extra care if you've experienced a recent fracture
Woman at the doctor's office | DragonImages/iStock/Getty Images
You may not want to cancel a trip if you've had a recent fracture. But you should be extra cautious during your trip. Before you leave, consult with your physician to ensure travel is wise, according to All Clear Travel Insurance. Some trips may not be a good idea after a recent fracture so be sure you receive the "all clear" from your doc before you book your trip. If your physician says you are clear to travel, ask if you require any special exercises or new medications during your trip.
Next: Make sure this is the right trip (physically) for you.
9. Evaluate if you can participate in all aspects of the trip
Doctor talking to a patient | Nensuria/iStock/Getty Images
Having osteoporosis shouldn't mean you stop living life. But sometimes there are restrictions you should respect. That includes physically challenging endeavors like playing certain sports or participating in some activities, according to All Clear Travel Insurance. If your trip includes a reunion rugby match and you have osteoporosis, consider the risk and talk to your doc. Think about cheering for your friends rather than participating.
Next: Know which medicines you'll need for an extended amount of time.
10. Have enough medication to cover you for the trip
Medicine | iStock.com/ areeya_ann
Be sure you request refills before you leave for your trip to ensure you don't run out while you are away. You may need to work with your doc or insurance company to make an earlier than anticipated request for a refill. Sometimes pharmacies won't fill the prescription early or won't run the medication through insurance.
Also, instead of requesting enough medication for the trip duration, have a supply for a week or two after the trip. You may be tired and busy when you return so having a little more than you need helps you avoid any gap.
Next: Don't forget to do this during your trip.
11. Incorporate exercise
Woman exercising | iStock.com/undrey
Getting stiff is common for people with osteoporosis, according to The Osteoporosis Book. You want to stay limber and loose, so integrate a few exercises to ensure you can thoroughly enjoy your trip. Walk around during your journey, but also do a few exercises in your seat too. Do a few wrist and neck rolls, knee lifts, and shoulder circles. Also, try some assisted stretching, by holding onto a sturdy table, so you won't fall.
Next: This is where your smartly chosen luggage comes in.
12. Avoid doing any of this
Man with a suitcase | iStock.com/m-imagephotography
Lifting should be kept to a minimum, according to The Osteoporosis Book. If you purchased that spinner luggage you should already be in a good position to avoid lifting luggage. However, sometimes you may be in a hurry and feel as though it is easer to lift an item and go. To avoid this, build in extra time to your trip so you don't feel rushed and end up lifting an item that could compromise your bones.
Next: These support items can make travel a lot easier.
13. Pack these items for support
Neck pillow | chengyuzheng/Getty Images
A few support items can keep you feeling great throughout the trip.  Plus pack a small back support and/or a neck pillow, according to The Osteoporosis Book. If your feet don't touch the ground while sitting, put your carry on bag under your feet to act as support.
Don't forget your music, which can be calming. You may also want to pack heat patches or rubs for sore muscles. Consider going with something that is unscented so you don't introduce a new odor into the train or plane–some passengers may have allergies or not appreciate the scent. Finally, avoid drinking alcohol and opt for water instead during your journey,  Alcohol is dehydrating.
Next: Be vigilant.
14. Know the symptoms of a fracture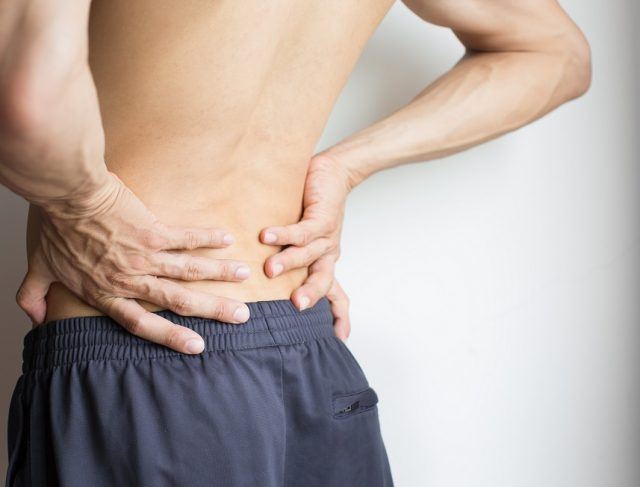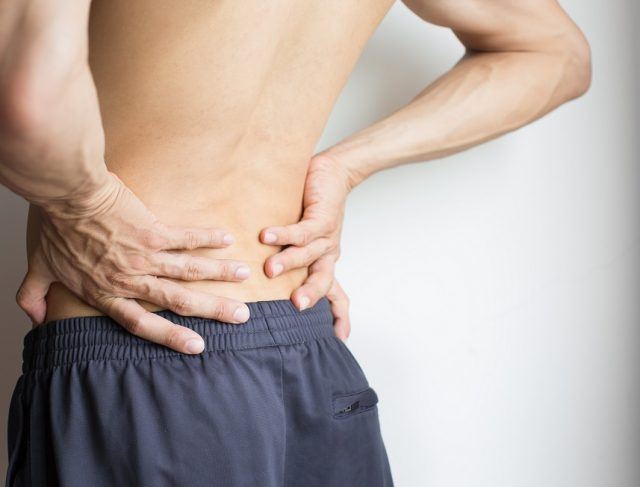 Man holding his back | globalmoments/iStock/Getty Images
You may not know what a fracture feels like, especially if you've never experienced one. Knowing the signs is important because if you have a fracture you should have it treated as soon as possible.
A spinal fracture includes sudden back pain that gets worse when you lie down, according to WebMD. You may also experience pain when you bend or twist too. Other symptoms may include digestive problems, hip pain, and even breathing problems.
Next: Above all, don't forget to do this.
15. Relax and enjoy
Woman walking on the beach | jacoblund/Getty Images
Although you may feel as though you have a litany of issues to address, remember to have fun and enjoy your trip, according to Over Sixty. Know what is realistic to do while traveling. But also know how to modify activities so you can still have fun but be safe. If you are doing anything physical, omit the alcohol, which can make you more vulnerable to falls and injuries.
Check out The Cheat Sheet on Facebook!
Source: Read Full Article